The School Day and Opening Hours
Timings of the School Day
Students arriving at school before 8.30am are to wait in the School Hall until 8.30am when they can go to form rooms. IT rooms are available for printing work from 8.20am.
Period 1: 8.50am to 9.50am
Period 2: 9.50am to 10.50am
Break: 10.50am to 11.10am
Period 3: 11.10am to 12.10pm
Period 4: 12.10pm to 1.10pm
Lunch: 1.10pm to 1.50pm
Students to eat ONLY in the Hall.
Warning Bell: 1.50pm Students must start to move to registration
Registration: Closes at 2.00pm.
Assembly: 2.10pm to 2.20pm
Period 5: 2.25pm to 3.25pm
On Mondays, there is no form time and school ends at 2.45pm.
Hours in school: 32 hours 15 minutes each week
Timetable
Our school operates a timetable of 25 one-hour lessons per week and students are issued with individual timetables in September. You will receive notification of the first day's lessons by email before the start of term. 
A feature of our timetable is the Enrichment Days which take place regularly throughout the year. On these days the normal timetable is collapsed and activities such as school trips, cross-curricular projects and activities and house enrichment take place.
The image below shows a typical year 7 timetable.
Days run down the side of the timetable covering both week 1 and week 2. The first week in September is always week 1, after this the weeks alternate between week 1 and week 2.
Lessons run across the top of the timetable: periods are numbered 1-5 and morning and afternoon registration are also shown.
Each block contains a 2 letter code for the subject, a room number to help you find your classroom and a 3 letter code indicating your teacher for this lesson.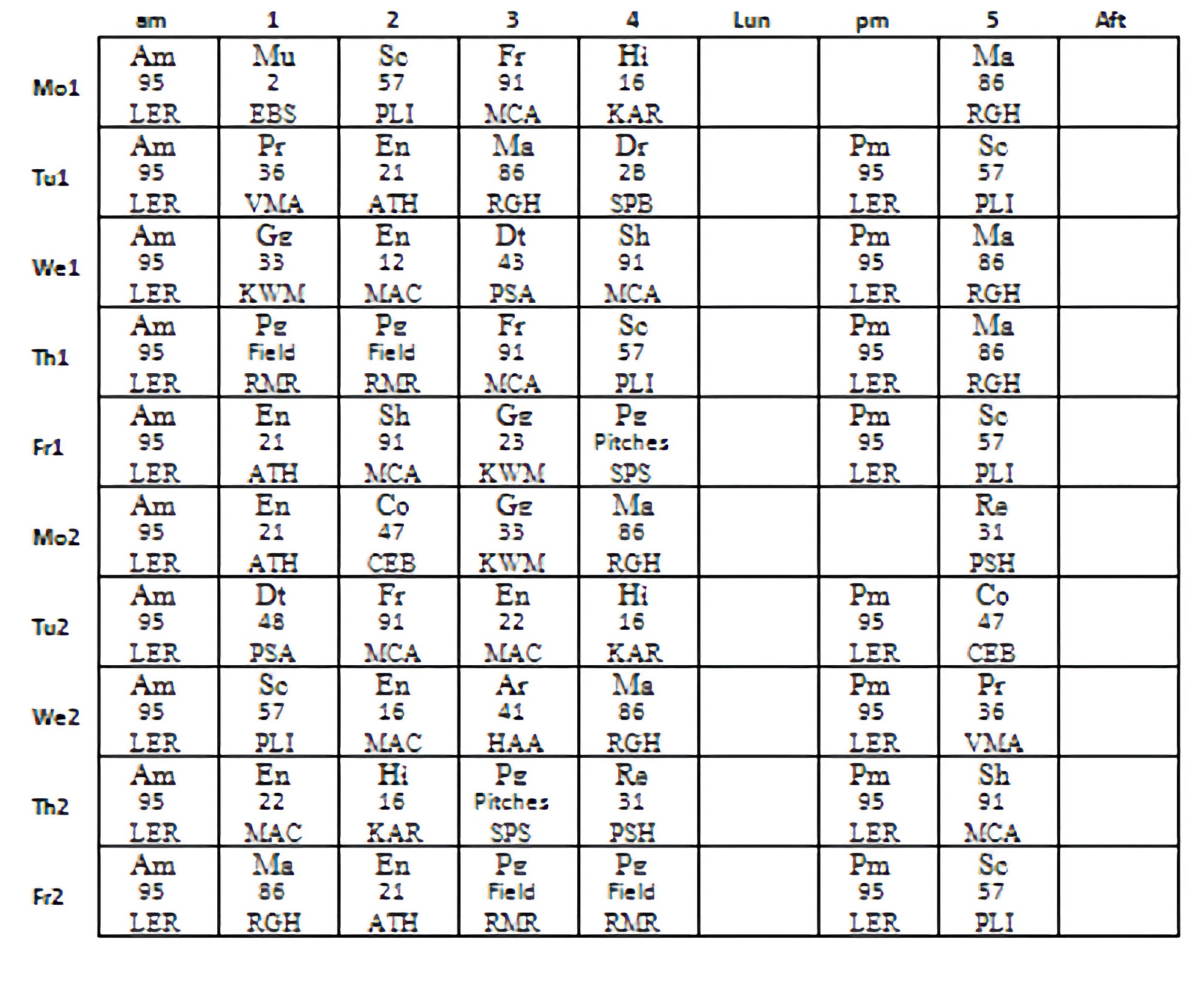 School Hours
Our school day begins at 8.30am with registration closing at 8.45am and the morning session ending at 1.10pm (break lasts from 10.50am to 11.10am). Afternoon electronic registration closes at 2.00pm to be followed by assembly or form time. The afternoon session begins at 2.25pm and ends at 3.25pm, except on Monday when we finish at 2.45pm.